Our first issue included research about existing commoning practices in Utrecht, undertaken by the second research group (Un)usual Business, who worked on the project in 2014 and 2015. A third research group, which ran from October 2015 until February 2016, continued to gather research, consisting of case studies of various initiatives with a potential for commons based practice. This journal contains a selection of the case studies and research they undertook. With the launch of our new website, we will be able to improve access to all of the research (Un)usual Business is doing, make local commoning practices more visible, and share all other findings in an interactive way. We hope that the website – an accessible archive of local practice and theory around the commons – will at the same time activate and inspire other potential commoners to join the initiatives they find there or start commoning their lives themselves.
But we are ambitious and are always considering our next steps. What can we contribute practically to our dream of a world in which social and economic relationships are based on self-organisation, care, solidarity, and sustainability? Formulating this clear vision for (Un)usual Business meant that the crucial questions we dealt with this year in our own collective almost always started with the words: how to? How to common? How to share our knowledge? How to visualise social relations? How to share knowledge in a way that moves beyond description and becomes political? How to share knowledge in an accessible way?

How to, how to, how to…
Subsistence politics is not a model, it's a process. The most important step is the first step.

Veronika Bennholdt-Thomsen & Maria Mies (1999: 220)
The subsistence perspective
Subsistence politics represents the concrete political and economical empowerment of the individuals in specific places and in their communities. Their life should not be determined by some abstract, remote, political supreme power. They ought to shape it themselves, out of their own strength, together with equals.
– Veronika Bennholdt-Thomsen & Maria Mies (1999: 220)
Through the work of J.K. Gibson-Graham, we were able to broaden our understanding of the economy as beyond mere capitalist relations. The concept of community economies provides us with different ways to imagine, visualize and empower new stories about alternative economic structures. In May 2015, we invited Inez Aponte to Utrecht, founder of collective Growing Good Lives, who gave the lecture Transforming the Dismal Science – Towards a New Story of Economics and workshop Beyond the Usual Suspects. She emphasized how the power of words shape what we believe is (im)possible and how the old story about capitalism has outlived its time. Learning from her argument that choosing our words well can be crucial in creating a new economic and cultural paradigm, we, with many other writers, are convinced that the commons and community economies provide a strong, alternative narrative to the hegemonic understanding of current economy as being only capitalist.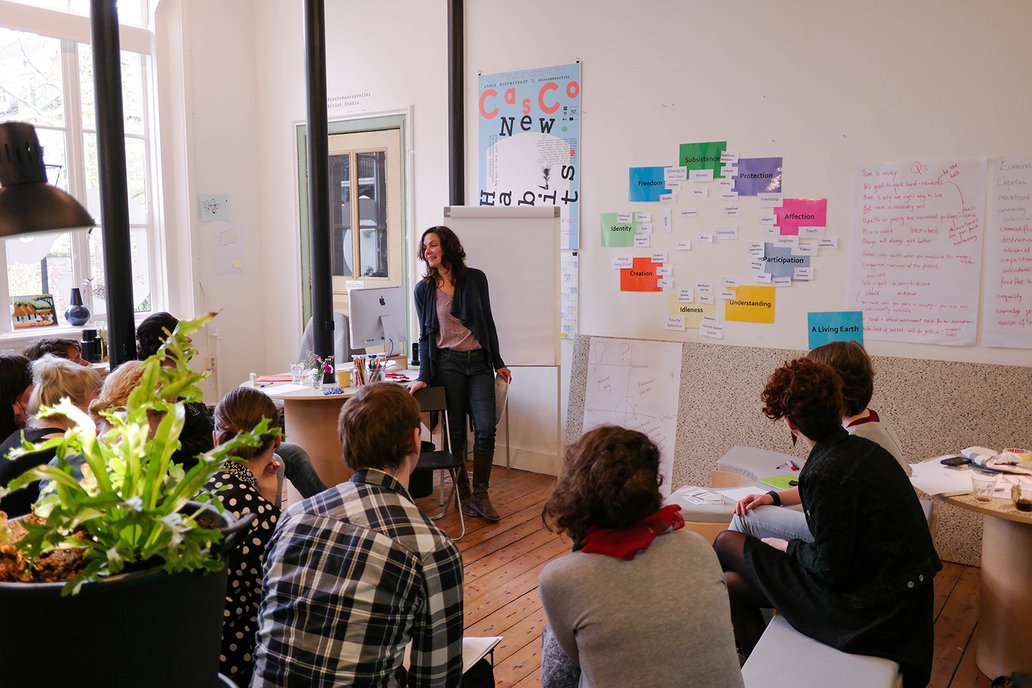 Inez Aponte - Workshop Beyond the Usual Suspects (May 2015), Photo by Dennis van Gaalen
Our challenge lies with our next steps. How to build sustainable relations with those we already collaborated with for our research? How to find common ground and foster the desire to connect different economic fields and initiatives together, in order to make each other stronger? How to experiment with the potential of community economies on a larger scale, a community economy with a multiplicity of communities? Is it possible to practice a subsistence politics, as Maria Mies and Veronika Bennholdt-Thomsen propose in their book The Subsistence Perspective (1999)?

Subsistence, according to Mies and Bennholdt-Thomsen, refers to 'everything that is connected with the immediate creation and maintenance of life, and also everything that is not arranged through the production or consumption of commodities.' In the iceberg visualization of the economy by J.K. Gibson-Graham, we can identify subsistence production in the submerged part of the iceberg: non-capitalist, hidden, undervalued and in danger of exploitation. The aim of subsistence production is to sustain life, whereas commodity production aims to extract profit from life. The two scholars argue for a subsistence perspective when they acknowledge the need for a new social and economic perspective, in which they call the subsistence perspective a 'perspective from below'. The perspective from above, as they see it, is considered to be aimed at 'a permanent growth of goods, services and money'. Starting with a perspective from below means to start with our daily lives and everyday politics and functions as a way to 'demystify' the perspective from above, which imagines a future on this planet only for a privileged minority, that is 'at the expense of others: nature, of other people, of women and children.' At the same time, the subsistence perspective bases itself on the control over the means of our subsistence: control over the way we consume and produce food, over the way we care for our children or over the way in which we live.

As a research collective, in which we regard knowledge as our common resource, we see the subsistence perspective as a way to further politicise our work. It allows for us to move beyond a mere description and visualization of commoning practices, giving us the possibility to imagine a broader utopian horizon towards which we are actively taking steps by doing the research in the way we do. Collective knowledge production, amongst ourselves and with other commoners, and careful mediation between practice and theory is crucial to realising our vision about the future. While working on the visualization and accessibility of our work, we agree with Mies and Bennholdt-Thomsen that a subsistence perspective is not a blueprint: there are no step-to-step directions. And when it comes to a political strategy for subsistence, we agree when they say that 'subsistence politics is not a model, it's a process. The most important step is the first step.'
Preguntando caminamos (while asking questions, we walk)

Indigenous Zapatistas in the jungle of Southern Mexico
How to get together?
With the How To Get Together series, we took a first step in physically bringing together local practitioners who were organizing themselves in the economic fields of food, care and housing. During these events, they presented their initiatives, shared their knowledge, different practices, the successes of their efforts and the challenges they faced. In organizing this series, our goal was first of all to meet with other self-organized initiatives: to gather together, to talk, share our knowledge, ideas and dreams. We wanted to collectively find commonalities in different practices, both successful strategies and organisational challenges. The second goal was to broaden the understanding of and images about local alternative economic activities. An underlying motivation was also to try the waters and see if there was at all an interest amongst other commoners and their initiatives to work together in a larger subsistence network.

The three sessions in the How To Get Together series hosted seven self-organised initiatives: food collective VOKO Utrecht VOKO Utrecht VOKO Utrecht is a food collective in Utrecht, accessible to all Utrechters. VOKO aims to make fresh, organic and locally produced food available at a fair price and to create a green community with close ties between farmers and consumers. All tasks are performed by ...  and food waste activists Taste Before You Waste Taste Before You Waste Utrecht Taste Before You Waste is originally an Amsterdam-based initiative that was founded in November 2012, focusing on the prevention of food waste. Their aim is to raise awareness about the enormous amount of good food that is thrown away every day and to inform people ...  presented during How To Make Food Together. Small-scale neighbourhood centre Ubuntuhuis Ubuntuhuis The 'Ubuntuhuis' is a small-scale community center, self-organised by and for people who have (had) experience with homelessness, poverty, psychiatry or living without residential papers. There are practical and social activities organized together with volunteers. The 'Ubuntuhuis' foundation was founded in 2011 and is based ... , which assists people dealing with homelessness, poverty, and isolation, and the collective childcare initiative de Oase De Oase 'De Oase' is a communal day-care center ('ouderparticipatiecrèche') for children aged 0 to 4, run by parents. This means that the day-care is run together with and by parents who take care and responsibility in order to create a good, trustworthy, familiar and safe environment ...  shared their work during How To Care Together. We closed the series with How To Live Together, where living group de Kasko De Kasko De Kasko , self-realised living project de Zonnespreng De Zonnespreng 'Zonnespreng' is a housing project in Driebergen, initiated in 1999. The first houses were completed in the Spring of 2010. The twenty households consist of 1, 2, 3, 4, or 5 people. The youngest resident is seven, whereas the oldest goes far into their seventies. ...  and residents of the squat Jeltje came to speak about how and why they live the way they do.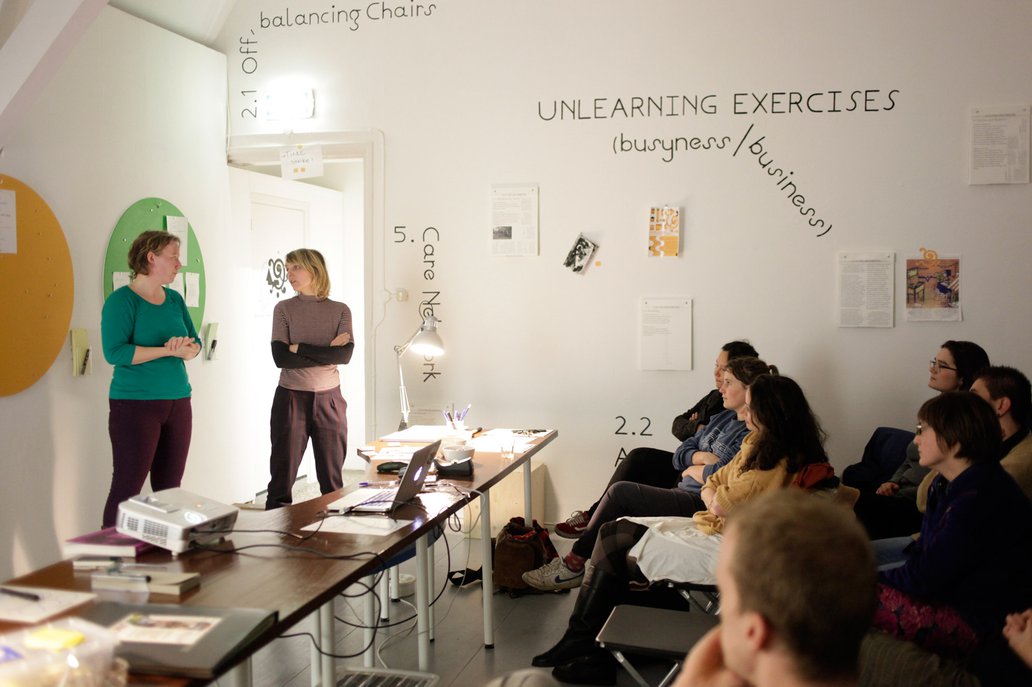 How To Care Together (December 2015), Photo by Coco Duivenvoorde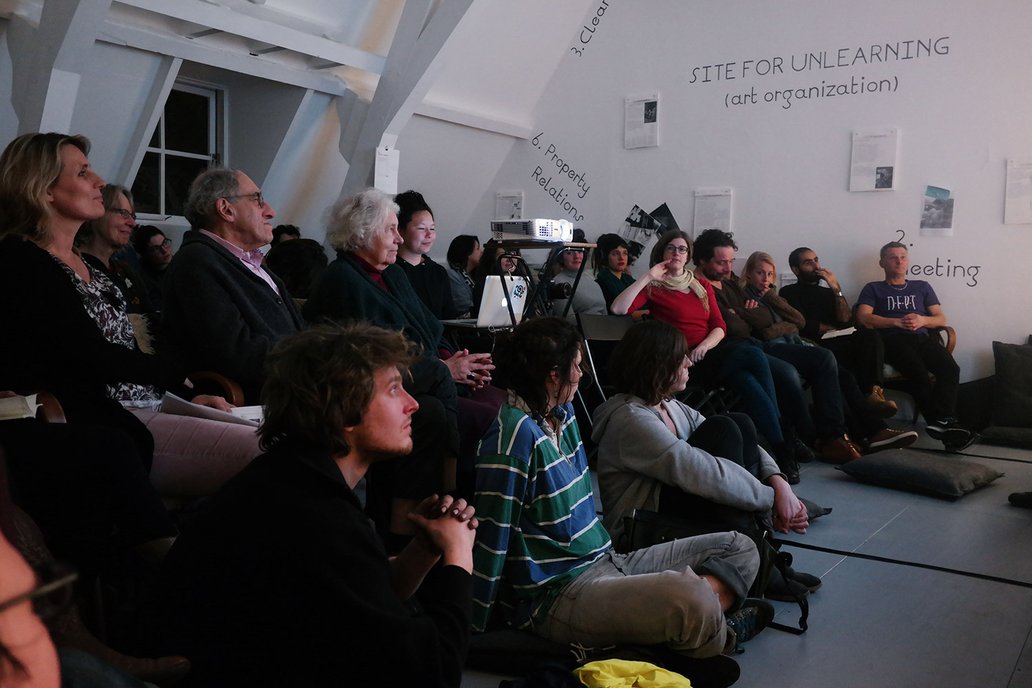 How To Live Together (January 2016), Photo by Dennis van Gaalen
The series confirmed the inspiring variety of successful existing commoning practices all over the economic spectrum. It also proved the effectiveness of building something new: when people have a desire to change the way they live, work, and consume, their collective dedication and commitment to that change can have a big effect on a small scale. At the same time, we were confronted with a seeming impossibility to function fully autonomously from either the market or the state. Collective childcare initiative de Oase struggled to comply with the strict government standards imposed on their line of work. VOKO Utrecht, a food collective that collectively buys local products within a 35 km radius of Utrecht to distribute amongst their members, acknowledged the fact that local food producers cannot produce enough products in the region to feed the city. Spokesperson Winny pointed out that the way things are now means that people continue to be dependant on the market, because the regional food production simply cannot provide for certain things.

For sustainable change, a shift in cultural and economic paradigm is crucial – as Inez Aponte framed it, a change in the dominant story we tell ourselves about the economy. We also foresee difficulties for initiatives to look beyond their own community, due to differences in focus and the amount of labour that goes into maintaining the organisational and relational structure of their mostly volunteer-run initiatives.

These observations strengthen us in the belief that we should reflect more closely on what the next necessary steps are to build a local, alternative economic structure that can provide for our daily basic needs. Launching our new website will help us continue to explore the myriad of economic alternatives that Utrecht has to offer through research and gatherings. We believe we can contribute to a sense of togetherness and we feel that in that sense our work is definitely a form of subsistence politics. However, the possibility of a larger local community economy, that includes the different community economies we are encountering on the way, is still on the horizon.

We are taking our first steps and it is still unclear down what path they are leading us. However, what is certain is that we need other commoners to collectively imagine what our future could look like. This journal has once again shown Utrecht's great economic diversity, but the question of how to get together remains. As the indigenous Zapatistas in the jungle of Southern Mexico say: 'Preguntando caminamos' (while asking questions, we walk). And so it is. We don't have all the answers yet, but we keep on walking nonetheless.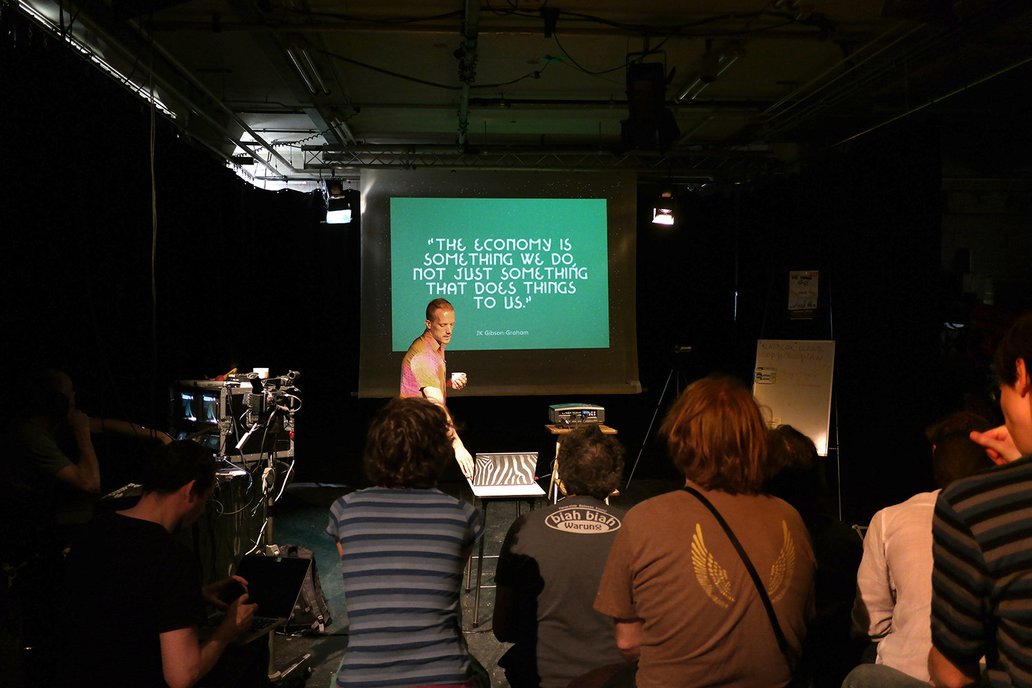 Koppelting festival - UB presentation Commoning in the wild (August 2016), Photo by Eline Wieriks
---
This article was published in the (Un)usual Business journal Utrecht Meent Het #2 (September, 2016).